** Parking information — see map
Though our address is on Colorado, enter on the west side of Louise Street.
The Senior Center is on the same block as and just south of the Glendale Library.
Parking is available in the Marketplace Parking Structure on 228 East Harvard, just north of and across the street from the Glendale Library.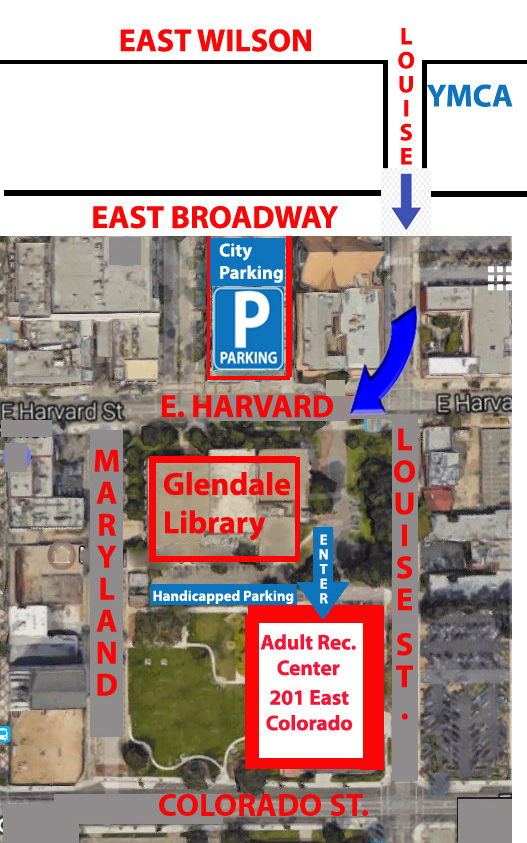 FROM THE 134 GOING WEST, take the Glendale Avenue exit. Turn right from the off ramp onto Monterey Road and then turn right onto Glendale Avenue, driving south. Pass three traffic lights, turning right at the fourth light, Wilson Ave. Drive west approximately six blocks and turn left onto Louise Street.
FROM THE 134 GOING EAST, take the Central/Brand exit. You will exit onto a frontage road. Drive one block east and turn right onto Brand Blvd. Then drive past four traffic lights. Turn left at the fifth light, Wilson Ave. Drive east for two blocks and turn right onto Louise St.
Our club is located in Room B, in the basement of the YMCA North Building. An elevator is available for wheel chair accessibility.
Limited parking may be available in the YMCA garage.  For those with handicapped placards, there is abundant parking on local streets. No-limit street parking is available on Jackson street, two blocks east of Louise Street.
For questions about parking, please call 818-869-4386 or email us at RegencyBridgeGlendale@gmail.com.